UPDATES 2012
10/2/12:
With my blessing, David McIntire has made our CD, "Wonder, Doubt and Curiosity" , available for download here.
8/18/12:
Sometimes I forget to post news about my activities in other bands here, if I plan on posting it elsewhere. But yes, I was in Paper Bag; and yes, there's interesting news on that front. First off, here's a link to some live video from 6/26/86. Then, there are some free audio downloads on reverbnation and soundcloud; the same tracks on each, but maybe you have a preference? Last, there's a survey set up here to find out some info about people who listen to us, and it offers room for feedback on what you'd like to hear next from us, in what format, etc.
8/15/12:
Important news:
The Phantom Airship PO Box is no longer active. Until other arrangements are made, for all transactions, please email me first (see front page for link).
Somewhat less important news:
I decided to follow Paper Bag's lead, and now have my own Facebook page here.....Any day now I'll manage to sit down and listen to all 4 and a half hours of reels from "The Perspective Sessions", from which Paper Bag's next batch of archival releases will come; after which, I will give my opinions to the other guys as to what pieces make the grade, and why. I reckon this ought to be some mighty good stuff.....Work on the studio has slowed to a crawl, but with any luck that will change....Almost diametrically opposed to that, PA-related ideas keep coming at what appears to be a rising rate. Feels like a sort of creative springtime might be on its way. I always hate saying things like that for fear of the dreaded "spoken jinx" phenomenon; but having said that, perhaps it will work in double-negative fashion; or be seen as a pile of superstitious bull.....I am back in touch with CD Baby and hope to start making use of the opportunities they afford us indie and "waaay-below-the-underground-underground" artistes. I am gradually being dragged to the conclusion that downloads are the way to go, much as I prefer physical CDs.
4/23/12:
There's a new blog entry here; Paper Bag now has a very nice Facebook page here; otherwise, not much. Work has continued on the studio and is coming along well. Writing on "A Handful Of Ashes" continues sporadically. Continuing ed continues to ed in various subjects.
1/19/12: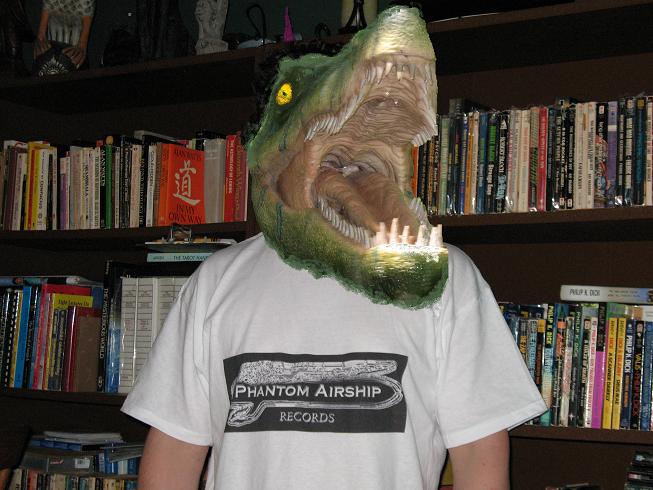 VERY LIMITED EDITION: PHANTOM AIRSHIP T-SHIRTS
White shirts, size XL; black and white pro silkscreened Phantom Airship logo. $9 plus shipping ($3 in U.S., $5 outside)
email order to: phantomairship@yahoo.com
OR
Send check or money order to

PO Box 82525 Portland, OR 97282-0525 USA
PayPal is my preferred method of payment for international orders.
Checks or money orders must be made out to Greg Segal, NOT Phantom Airship
1/9/12:
HAPPY NEW YEAR!
And what better way to start off than with an entire album for free download? Yes that's right kids, it's "A Man Who Was Here", remastered, sounding better than ever and ready for listening. As with Paper Bag's "Music To Trash" download, this one contains jpegs for printing up a CD cover and tray card. So what are you waiting for? Act now!