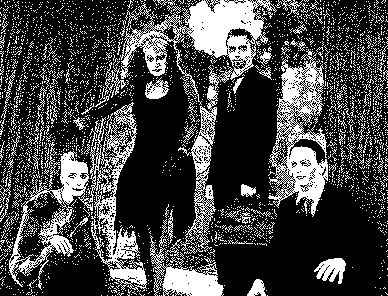 l. to r.: Forty Five Frank, Grandma Fiendish, Dr. Jack Nowhere (aka GS), Ravenscroft
Antiworld plays punk songs about horror, especially horror movies. The band is theatrical, using props and makeup and stage personas. I was first with Antiworld from early 1995 through most of 1996, forming the band with Granny Fiendish (vocals) and Forty Five Frank (bass). After a few gigs the guitar position was filled permanently by Ravenscroft. I played drums with them, contributed to the arrangements of early songs, and wrote lyrics for "The Brain That Wouldn't Die". I appeared on their first independent cassette release and on a 60 minute compilation video of clips from the early live shows.

In late 1999 I rejoined Antiworld, playing drums and contributing music ("The Spider") and lyrics ("The Day it All Went Wrong" and a re-recording of "Brain That Wouldn't Die"), all of which can be heard on the CD "The Horror Of It All". We recorded an excellent live radio show in late 2000 and it's been released too.

In early 2001 I left the band, but Antiworld continued on to play around the world, and are currently signed to a German label.
logo by Granny Fiendish. Horror illustration of Antiworld by GS , based on a photo by Jen
Back to the Greg Segal home page